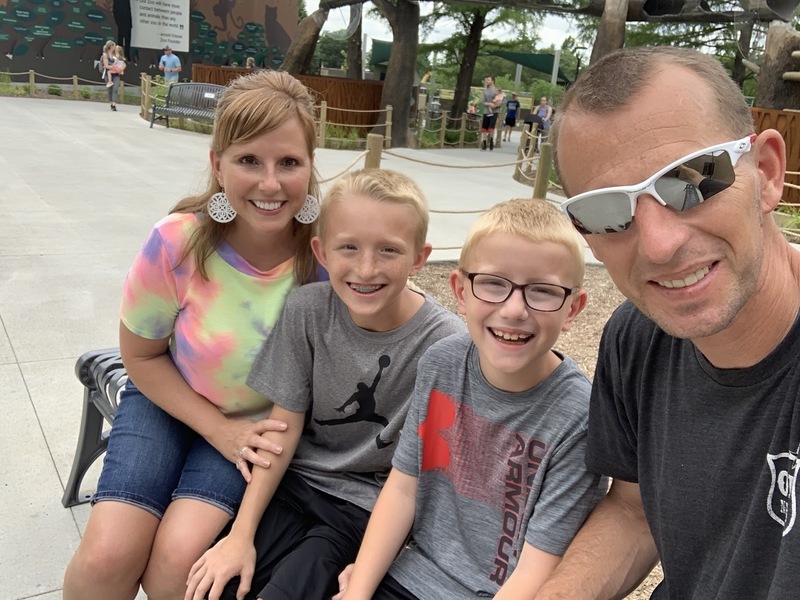 I grew up on a farm ten miles north of McCook, in southwest Nebraska. I attended elementary and high school at Republican Valley, a consolidated school between McCook and Indianola. In high school I was able to participate in many activities but loved playing volleyball and basketball the most.
After graduation I attended McCook Community College, and played volleyball. After two years at McCook, I completed my Bachelors Degree in Elementary Education and Special Education from UNK. My student teaching experience led me to Davenport, Iowa and Adams Elementary School. This five section school was overwhelming at first, but soon proved to be one of the best learning experiences of my life. After a long term sub position in first grade, I was offered a job as one of their three special education teachers. Davenport, Iowa and a volleyball court, also led me to my husband Jay.
In 2003, after living in Iowa for three years, it was time to move back home to Nebraska. Wood River was the first school I applied at and I was offered a job as a 5th grade teacher and junior high volleyball coach. I excitedly accepted. I loved being a classroom teacher, but after earning my masters degree in Curriculum and Instruction from Wayne State College in 2009, a Literacy Coaching position was created. This allowed me to focus on my love for teaching kids to read. Since then, this position has evolved into an Instructional Coaching role, which I'm currently in. My job is the best of both worlds…teaching children, and collaborating with teachers in the areas of data and instructional practices. In May, I will earn my endorsement in School Administration PK-8 from Wayne State College. I've been the high school head volleyball coach since 2016. Being able to work with young people and the game of volleyball has been a good fit for me.
Jay and I were married in 2006. We have two sons, Jace who is a sixth grader at Wood River MIddle School and Carter who is a third grader at Wood River Elementary. They are both involved in many activities. In our free time, Jay and I love to play volleyball, be active with our kids, cheer on the Huskers, and travel.
There is so much to love about the community of Wood River and we are truly blessed to call it home.