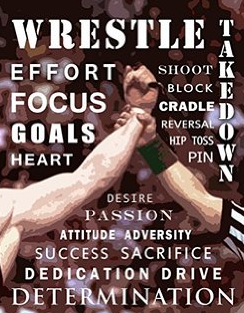 3rd-8th Grade:
Times 6:30-7:45
Practice Schedule:
November 12th
November 16th and 19th
November 23rd
December 1st
December 7th and 8th
December 15th and 17th
December 21st
January and February schedule/times will be shared after Christmas Break
PreK-2nd Grade:
Times 5:30-6:15
Practice Schedule:
January 5th, 12th, 19th, 26th
February 2nd, 9th, 16th, 23rd, 25th
March 2nd
WOOD RIVER WRESTLING CLUB REGISTRATION
PreK-8th GRADE Registration Steps
(No in person registrations this year due to COVID)
Complete the online registration form at this link: https://bit.ly/3oUaXnF

Complete the USA wrestling form (attached)

Complete the WR Wrestling Club waiver (attached)

Include the registration fee, checks made out to WR Wrestling Club

Return all forms and registration fees in an envelope to the elementary or high school office by November 11th.
COVID Protocols
Only wrestlers are allowed on the wrestling deck

No parents on the wrestling deck, unless they are actively coaching.

Temps will be taken before wrestlers are allowed to begin practice.

Hand sanitizer will be used before practice begins.

Masks must be worn at all times except during practice.

Bring your own water bottle clearly marked with your name.

If your child does not feel well, please keep them home.
Tournaments
Coaches highly encourage wrestlers to attend the Wood River Tournament on March 5th. Additional tournament opportunities can be found at trackwrestling.com. To attend these tournaments registrations are completed online. This is each wrestlers' responsibility if they want to wrestle. Most tournaments cost $10-15 to participate. Once practices start, information for tournaments will be shared on the Facebook page.
Communication
Practice dates and time are subject to change. The Wood River Wrestling Facebook page will be the primary source used to communicate. Please join the page, and enable your notifications. https://www.facebook.com/groups/364637170301678
Registration Fee
The registration fee for the Wood River Wrestling Club is $30. If you are unable to pay please talk to one of the following board members, Darin Waddington, Brooke Thompson, Jay Martin or Nanci Martin. No one will be turned away because of financial reasons. With your paid registration fee you will receive a singlet and a club t-shirt in addition to a league insurance card. This is an insurance policy to protect you as well as our club from liability. All money is used for club expenses (singlets, tournament insurance, t-shirts)
Singlets/Shoes
Shoes can be rented (if available) for a $5 fee. The fee will be refunded when the shoes are returned at the end of the season.
Singlets will be handed out on November 16th for grades 3rd-8th, and on January 12th for PreK-2nd.
IF YOU HAVE A SINGLET OR SHOES FROM LAST YEAR PLEASE RETURN.
QUESTIONS
Nanci MartinBrooke Thompson
563.340.1740308.379.4944